Welcome to Queen Anne Recordings
Are you looking for some of the best A Cappella Learning Tracks available?
You've come to the right place! Hi, my name is Anne Bureau and I would be pleased to provide you with some of the best barbershop learning tracks that you will hear. Please browse my site and let's see how together, we can make some beautiful music.
Please visit my Facebook Site
My Philosophy About Learning Tracks
I strive to make every track as accurate as possible and I pay very careful attention to making sure that my vocal production is consistently high. I am also committed to tuning each and every chord so that as folks in your chorus or quartet sing with me, they can experience what it feels like when every chord is in tune. As importantly, I am committed to the music. Being true to the music allows it to come to life in a way that is natural and never "forced". Musicality is one of my key strengths.
Using my learning tracks will allow your chorus or quartet to not only learn the music, but to perform it with a musicality which will leave your audiences begging for more!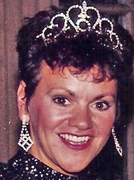 Lot's of new recordings each month!!
Check out "NewYork, New York (Theme)" - a spectacular chart by Patrick McAlexander.

Try a fun Pentatonix number - "Say Something"


Remember that we can process your orders on line via Pay Pal or Credit Card

Take a look at our new feature - SAMPLES - have a listen!!
My Experience
Music and harmony are in my blood! I have been involved with a cappella music, specifically barbershop singing for over 26 years. I am a certified barbershop chorus director and currently direct both a male, North Pennsmen (2008, 2009, 2010, 2013, 2015 and 2018 Central Division Champions) and female, the Liberty Belles barbershop chorus, (a quickly rising Harmony Incorporated chorus). In addition I am a certified Music Judge in both Harmony Incorporated and the Barbershop Harmony Society. I was the baritone of the 1993 International Champion quartet, Spectrum and Lead in the 2012 Harmony Inc. International silver medalist quartet RhythMix.